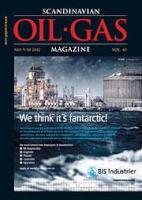 Safety First
In addition to being our annual focus on matters concerning safety, this issue takes up the Arctic – which dovetails nicely, as safe, secure operations the region are particularly important.
We start with a look around the Arctic, focusing on some of the latest developments – from licensing in Canada and Norway to drilling in offshore Alaska. According to the US Geological Survey reports 13 percent of the world's undiscovered gas and 30 percent of its oil lie in the Arctic region.
Looking a little closer to home we hear from Bis Industrier about the company's activities in the Arctic region, specifically in Hammerfest at Statoil's LNG facility on Melkøya. It's remarkable to consider that not so many years ago, Hammerfest was a fishing village and Melkøya a summer refuge for grazing sheep.
ExxonMobil Lubricants and Specialties writes about protecting equipment in arctic conditions – an on-going challenge that's a big part of maximising productivity while operating safely, sustainably and economically. Typical offshore oil and gas rigs and platforms are reliant on a number of lubricants to ensure an efficient operation, and ExxonMobil's lubricants ensure reliable operation in extreme conditions.
As we transition over to safety, we have an interview with Magne Ognedal, Director of the Petroleum Safety Authority (PSA), the organisation directly responsible for ensuring that all activities on the Norwegian Continental Shelf are performed to the highest health, safety and environment (HSE) standards. Honoured recently at the ONS 2012 for his contributions to the industry, Ognedal shares his unique perspective on safety.
From Offshore Solutions, we hear about their Offshore Access System (OAS), which provides a safe and efficient transfer of personnel from vessel to fixed platform. More than 10 million crew transfers take place annually across the world in the offshore oil and gas sector, and Offshore Solutions is working to ensure safe movement of personnel.
Has the Deepwater Horizon tragedy in the US Gulf of Mexico resulted in better regulations for oil and gas activities offshore? Norton Rose examines the question while looking at how previous disasters have led to intensified regulation.
And that's not nearly all. We've a full issue that includes topics such as life extension, retrofitting facilities (using 3D scanning to aid CAD design), as well as a passive B-annulus measurement system that provides real-time data to help operators prevent blowouts.
Right in the middle of the issue, you'll find our media plan for 2013 (as if next year is coming fast enough already). As always, we invite you to let us know if you have any news you'd like to distribute across the industry. The coming year is special for us too – we're celebrating 40 years in print. So join us next year, as we look back over 40 years (and then some) in addition to our usual coverage.
But before this year is over, we have one more issue to go. Let us know if you'd like to be part of looking back at 2012 and forward to the new year.