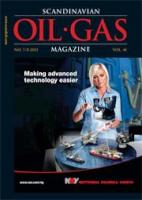 Looking Forward
Summer's nearly over (at least from a holiday perspective) and we're now busy applying the final touches to this year's July/August issue.
A big part of our summer is spent thinking about one of the North Sea's biannual conferences – which this year happens to be Offshore Europe. But we also have the new ONS Norway, so this year's double issue is doing double duty.
But I think can manage to pull its weight.
Traditionally, this issue includes a wide variety of what we call Perspectives – observations and opinions from a selection industry and government leaders.
In addition to interviews with Norway's Minister of Petroleum and Energy, Ola Borten Moe, and the UK Minister of State for Energy, The Rt Hon Michael Fallon MP, we include an interview with Sergey Donskoi, Russia's Minister of Natural Resources and the Environment. Although we see three different perspectives, the similarities are noteworthy – especially in how all three appreciate the importance of their closest neighbours.
Also within the governmental, political realm we've interviewed Bent Høie, the Second Deputy of Høyre – Norway's Conservative Party – concerning his party's petroleum and energy platform for the upcoming Parliamentary election in Norway this September. Over the course of several governments, Norway has maintained a consistent strategy for its standing as an oil nation, and Høie helps us understand how that although Norway's political parties' oil industry perspectives may differ, the importance of sustaining this consistency has prevailed.
Among the industry leader this year, we've queried Bart Heijermans, DeepOcean Group Holding's Chief Executive Officer, who explains how DeepOcean's recent expansion is only a step in the company's long-term plans to grow, adding additional services to their subsea maintenance and installation portfolio.
We also hear from Eirik Simonsen, the Global Flow Assurance Group Manager for pipeline manufacturer Bredero Shaw, about some of the company's latest developments and accomplishments, including the significance of their recent OTC Spotlight on New Technology awards.
Jonathan Henderson has been Managing Director of ffA tells us about how his medical imaging experience has served him as his company developed GeoTeric Geological Expression, which translates geophysical data into geological understanding.
And our regular Profile column features Hugo Sandal, both former and new Managing Director of RWE Dea's Norwegian business, who has recently returned to Norway to retake the position. RWE Dea has become an operator on the Norwegian Continental Shelf, so Sandal's return will be worth watching.
The theme of this year's Offshore Europe is "The Next 50 Years" – and as you turn the pages in this issue, you'll see that this theme has been the inspiration for many articles. From nearly every topic we cover in this issue, you can see this theme recur – whether it's policy, technology, recruitment or security.
Hopefully, you've had some good downtime this summer – some time to recharge your batteries. But if you're like us, once there's a bit of spark in the batteries, the mind starts to think about the future – what's up next. And for us, what's up is ONS Norway and Offshore Europe.
Be sure to look for us at both events. We'd really like to find out more about what you and your business have been up to lately – and about any plans you have for the future – near term or spanning the next 50 years!