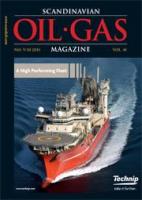 Everyone's Business
Although safety is a 24-7-365 concern, we traditionally reserve our fall issue to take up health, safety and environmental issues.
The Arctic is an especially sensitive area in which to work, and we start with two features that take up this topic.
First we examine some of the measures that are now being taken to ensure environmental protection in the Barents Sea – as well as the challenges facing operators near the Arctic ice.
From Ramboll, we hear about how in the Arctic, technical skills, in depth knowledge of the region and the combined strengths of different specialists, provides good possibility to benefit from the resources while safeguarding Arctic nature.
Much of safety involves managing risk, and we hear from Merlin ERD about how the industry can benefit from continually considering risk, consequence and mitigation options as it moves forward with innovation.
As new technology is introduced, riser design becomes more sophisticated and extension of design life is required, and BMT Group examines some of the technologies available to monitor an asset's performance in order to assist with operational decisions and ensure safety.
And we can't forget the "H" in HSE. A healthy workforce is vital. We've often heard that a company's greatest asset is its people, and Sodexo explains how companies should invest in their employee's wellbeing to achieve a complete HSE culture.
These are only a few of our safety-focused features. But there's more, as we also look at matters dealing with technology.
Flow measurement is vital for the oil and gas industry. From NEL in the UK we hear about how flow meter calibration issues can be overcome by the experts. From SP Technical Research Institute of Sweden we hear about the development of a unique test facility, underscoring the advantages of testing measuring instruments for use in demanding applications.
We also include a feature that looks at a novel new approach that holds the promise of reducing the operational costs of providing power to ancillary functions on board offshore drilling rigs by tapping into the energy produced by braking during drilling. Not only novel, but also a low-cost and cost-effective method that saves valuable deck space on a rig.
This issue's profile is of Macgregor Vice President of Offshore Support Services, Gaute Sjusdal, whose experience – both in the military and oil and gas industry – is put to good use as he works in the global crane market.
And, as always, the fall is packed with conferences and events. Take a look at our calendar page – it's quite full and doesn't manage to include the entire month of November. So, keep an eye open for us if you're visiting one or more of the many opportunities that are available in the coming weeks. We definitely want to hear more about what's new with you and your company.
Don't forget – we've reserved our next issue for celebrating our 40th anniversary. We'd like to invite to join us in celebrating the last four decades – as well as looking head to the coming years. Let us know if you have something from your North Sea experience that you'd like to share.