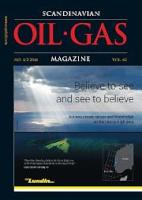 Half Full
We hear rumblings of how industry investment this year – and over the next few years to come – may not be growing at a pace that investors have come to expect. But we have to remember that the growth on the Norwegian Continental Shelf since 2007 has been phenomenal. While the rest of the world was taking slow, painful steps toward a new kind of "normal", NCS investments were growing.
The most concerning challenge right now is how to deal with rising costs, as the cost of doing business has been growing in parallel with the rise in activity.
This January, Statoil announced that the Kristin gas export project (KGEP) partners had decided to terminate the project due to unsustainable economics. Increased investment costs and increased risk to volume availability were to blame. The KGEP decision will not affect Polarled – the pipeline from above the Arctic Circle that terminates at the gas plant at Nyhamna.
But this is only one relatively minor example. It's much more positive to point to the four plans for development and operation (PDOs) that were approved in 2013. Aasta Hansteen, Oseberg Delta 2, Ivar Aasen and Gina Krog – all of which involve Statoil – are collectively only one indicator that activity will continue apace. More proof of a stable future is 3013's eight NCS discoveries.
One problem is the nature of the industry. When compared to markets, which tend to focus on quarterly results that are often compared to the pervious year's numbers, the oil and gas industry moves at a snail's pace, often taking a number of years from discovery to production.
News of Johan Sverdrup rocked industry and markets in 2011, and created tremors as the field's potential grew and grew. Yet appraisal is still underway and production is not expected to begin until late 2019 – and eternity by market standards.
Ernst & Young's Norwegian oil field service analysis for 2012 reported that, although the industry saw a dip in investment in 2010 due to oil price decline, from 2008 to 2012 investment increased 30 percent. Published a year ago, the report predicts "cautious growth" in the period 2013 to 2017 – not so different from reports we hear today.
As our NCS 2014 report in this issue points out, there's ample proof that this caution has resulted in operators working hard to keep costs lower. Moreover, the 2-billion-barrel Johan Sverdrup discoveries and a number of Norwegian Sea developments will soon see contract awards that will undoubtedly increase investment figures. And drilling continues a record levels.
The Awards in Predefined Areas (APA) licensing round is another clear example of the continued interest in the NCS. "Predefined Areas" mean that, for the most part, the infrastructure is in place – and this "maturity" did little to spark the imagination. But then came news of Johan Sverdrup, and in January we saw 48 companies offered 65 production licenses in the 2013 APA – another record.
And with 40 companies nominating 160 blocks for the 23rd licensing round – 140 of which were in the Barents Sea – we can see that interest is high across the entire NCS.
So the NCS is not lacking in opportunity – and companies are moving forward. As we found with figures from 2010, growth is at the mercy of oil and gas prices as well as buffeted by the rising cost of doing business.
So while "caution" may be the watchword, we hope this caution won't translate into a slowdown in the industry's ability to incorporate new technologies. While early adopters may feel the pinch, innovation can lead to increased recovery and lower costs.
We must be wary that sometimes, what may be favourable to investors in the short term may not benefit the industry in the long run.