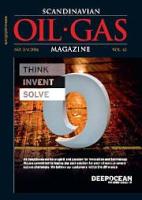 A Really Big Show
If you want to get a Texan's attention – as well as chuckle – just say, "Everything's bigger in Texas".
And if you're talking about the OTC event taking place in Houston every spring, the phrase just may be more than a little true, as representatives of the oil and gas industry from around the world gather to find out more about the industry's latest technological innovations. OTC is without a doubt a place to see and be seen.
We kick off this year's OTC issue with an interview with FMC Technologies' Helge Ruistuen, who, as Manager of Production Performance Services, is responsible for the Spotlight on New Technology Award winning CPM – Condition Performance Monitoring – for subsea fields. As more and more processing occurs on the seabed, CPM will be crucial to the evolution of production.
While at OTC, you have the opportunity to attend the Topical Luncheon featuring John Westwood of Douglas-Westwood. And in this issue  have a deepwater forecast from DW, revealing the highlights of how and why we can expect a surge in development spending.
Looking towards the Americas, we hear from ABS about research taking place in Brazil to increase the lifespan of floating production vessels. While FPSOs have become the production unit of choice for regions such as Brazil, we also see from our report looking into Petrobras' support of a wide range of technologies to boost production.
Our traditional OTC section has grown this year. Not only do we look at some of the highlights of the event, including the Spotlight on New Technology Award winners, but also we have a large number of Gulf of Mexico-focused reports regarding companies such as Statoil, Maersk Drilling, Jotun, Rolls Royce, Subsea 7 and Seabox. Hopefully, the OTC section will help with your planning for a busy week in Houston.
Closer to home, we've spoken with Iain MacKay, Executive Vice President for Petrotechnics, about how the company's solutions – such as the Petrotechnics Operational Performance and Predictive Risk platform Proscient – work to standardise policies, rules and risk management practices across an organisation, enabling users to control and manage work safely and efficiently.
We also include an interview with Pieter Rieder, ATPI's Global Head of Energy & Shipping Sales, about ATPI Instone travel management offerings to the oil and gas and the shipping industries. ATPI Instone serves as a systems integrator to ensure effective, safe travel for individuals and crews.
This issue also includes LNG technology – LNGo™ natural gas liquefaction system – from Dresser Rand, as well as a look into the unconventional gas potential in Europe from Allegro Development Corporation.
Offshore activities cover a wide range of topics. We hear from Viking SeaTech about the increasing complexity of offshore mooring. Harris CapRock explains how advanced VSAT capabilities enhance offshore communications. And Sherwin-Williams Protective & Marine Coatings explains how the company's surface and humidity tolerant epoxy technology meets the challenges of harsh offshore environments.
All of here at Scandinavian Oil-Gas Magazine hope your visit to Houston is productive. It's sure to be a busy week. So if you happen to run into one of us at the show, be sure to let us know about your latest news.