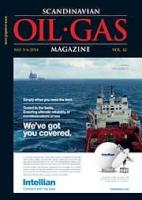 Meeting in Moscow
Chances are, you might be among the lucky ones, reading this latest issue in Moscow during the 21st World Petroleum Congress this June.
Under the leadership of the World Petroleum Council, this unparalleled event has been held every three years in different countries since 1933. This year's WPC is organised by the Russian National Committee of the World Petroleum Council under the leadership of the Russian Federation and the heads of relevant Russian Ministries.
More than 5,000 attendees and 500 CEO's, presidents and government ministers will be attending this world-class event, placing the 21st WPC among the largest oil and gas events in 2014.
This issue begins with a Russia Update section, including a report on current cross-border oil and gas business activities. The report highlights recent events such as Gazprom Neft's first cargo of oil from the Prirazlomnoye field, the only project to deliver oil from the Russian Arctic's continental shelf, and how Gazprom has recently agreed to supply China's Northeast provinces with 38 billion cubic metres of gas per year.
We also hear from Deloitte's Petroleum Services Group in Moscow about current licensing activity in the Russian Federation. In 2013, with an increase in blocks awarded, oil and gas companies are showing increased activity in the licencing processes. With more blocks on offer in 2014, Deloitte expects this trend to continue.
And we include a short look into some of the activities taking place at the 21st WPC. Be sure to plan your week well – expect it to be busy.
We also have a market analysis that focuses on Brent, the "reigning global benchmark", which is estimated to be used to price two-thirds of the world's crude. But production and other forces are a play. Will Brent continue to dominate in the future?
From Petroleum Geo-Services – PGS – we hear about how analysis of the geology of the Norwegian Sea's Halten Terrace area, which began in the early 1980s, continues reveal the area remains highly prospective.
The current rig market is another topic taken up in this issue. Like any market, rigs see "peaks" and "valleys", and the report looks at these from a North Sea perspective as well as how demand from other provinces is playing a role.
One topic that is often discussed when the industry gathers is recruiting and retaining the expertise needed to move forward. Petroplan looks at the recruitment issue from the standpoint of a drilling company's access to "human capital" – the ability to retain and attract talent.
From the engineering services perspective, we hear from Apollo Offshore Engineering about the firm's philosophy that focuses on retention now that demand for expertise is so great.
All of here at Scandinavian Oil-Gas Magazine wish you a fine summer. We'll be hard at work preparing our 7/8 issue – a double special edition that we'll bring in late August to Offshore Northern Seas in Stavanger. So if you're planning to attend ONS – or you have news you'd like to distribute to attendees – be sure to contact us. We'll help you get the word out.