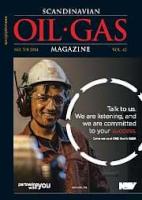 Embrace Change
The theme for this year's Offshore Northern Seas is "Changes" – a topic that in itself could be the source of many pages of commentary. For good or bad, one thing is for certain: Change is constantly with us.
ONS – only slightly younger than the "oil adventure" on the Norwegian Continental Shelf – celebrates its 40th anniversary this year. It's only natural that anniversaries inspire contemplation about how everything has changed over the years. So the ONS focus on Changes not only reminds us how different it was in the early years, it helps to emphasise how constant change can be. Each ONS over the decades has focused on the step-changers and the game-changers that have helped the industry to move forward, improving recovery, helping the industry work more safely and, perhaps most importantly, increasing value for the industry and country.
In the North Sea, much of the technological change over the last 40 years has been in response to challenges. Innovation of existing technologies to adapt to North Sea and now Arctic conditions has been a constant that has reaped benefits as it's applied in other oil provinces around the globe.
The oil adventure in the North Sea has also spawned another innovation that has proven to be an inspiration. While oil, gas and energy are traded as commodities, the concept that these resources are the property of all citizens has been part of the motivation towards consistently working to maintain long-term polices.
And because not all change is positive, consistent policies do much to ensure that we continue to see the positive changes of innovation development and value creation.
Markets crave stability. As we witnessed during the supply disruptions from North Africa during the so-called "Arab Spring" beginning in late 2010, when the demand for North Sea oil and gas pushed prices to current levels.
The on-going crisis in Ukraine has cast a long shadow over energy markets. As we go to press, "Level 3" sanctions have been levelled on Russia, creating an even wider divide between the country and Western Europe.
While some aspects of Russia's economy may suffer from these sanctions, China as a market for Russian energy has become a reality. The full impact of these events on Europe's energy mix has not yet been realised, but change is expected and adjustments will be made.
As Europe adjusts to these changes, the North Sea's importance to the energy mix will grow.
Across the North Sea, policies that aim to increase recovery are in place and in the UK, these efforts are being expanded in response to Sir Ian Wood's review of the UK's offshore oil and gas production, which examined the current operating environment and challenges facing exploration and production on the UKCS.
The transparency and wisdom of the North Sea policy frameworks that are in place, with nearly 50 years of consistency have led from success to success. There've been no 180-degree turns – not even 90-degree turns – over the last 50 years. Some tinkering, yes, but these have mostly been policy shifts to address a maturing province.
And as the province continues to mature, incentives should be strengthened to attract new companies –from both a production perspective and with an eye for the supply chain. As Norway's Minister of Petroleum and Energy, Tord Lien, tells us, the NCS – and by extension the entire North Sea – will benefit from attracting new, smaller, geology-focused oil and gas companies that can work with marginal fields and help make new discoveries. And, at the same time, we must continue to encourage and retain the larger, more experienced companies, which have a broader range of resources to help with developing the larger, more demanding fields.
The authorities on both sides of the North Sea tell us that just barely half of the reserves have been extracted from the province. Maintaining consistent policies that strengthen incentives, whether tax relief or support for R&D, will be key in ensuring that as much value as possible is generated.