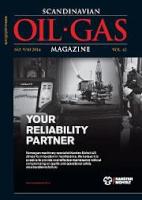 Safety Always
It's been an incredible summer. But this is always the case when we are in an ONS year.
As usual, the time has flown by, and it's already been a month since we returned from ONS. Check out our review and photos from a very busy week in Stavanger.
This issue starts with a feature from Barclays Corporate Banking Oil & Gas, which examines the current investment opportunities in the North Sea. When considering some of the recent discoveries in the North Sea on the Norwegian Continental Shelf in particular – and the potential for development of assets and infrastructure on the UKCS as well – the outlook is positive.
Some of the good news this year has come from the Barents Sea. And in light of the discovery in the Pingvin prospect as we were going to press, we can expect this favourable news to continue. From EMGS, we hear how electromagnetic (EM) data can contribute to ensuring improved play and prospect evaluation – helping to overcome some of the challenges of geological complexity.
Expro examines how, over the life cycle of a field, operators are challenged with how to tackle a decrease in production and maximise the potential of reserves. Well integrity is an important issue during the entire life of a field, and the feature examines how service companies and operators can work together to maximise production.
Flow assurance and fluid dynamics are fascinating, especially when considering how these related fields ensure that most everything the industry works with – from platforms to pipelines – works as it should. Emerson Process Management tells us how measurement control works to ensure accuracy and repeatability in flow measurement. Likewise, GexCon explains how CFD – computational fluid dynamics – modelling of pipe networks and equipment can help reduce long-term risk.
We traditionally take up health, safety and environment in this issue – although it's a topic that we're always willing to cover – and this year we have a very broad range of topics that fall under the HSE umbrella.
From Ambrey Risk, we include a feature that examines the current status of piracy and how shipowners can work with the private maritime security sector to mitigate and manage the risk.
From there, we move to inspection technologies that help to protect facilities and lives.
FireVu tells us about how early fire detection is crucial in responding to fires that can develop quickly and envelop production facilities and materials – and how the various types of detection systems can meet these challenges. From gas safety and breathing air specialist Sabre Safety, we have a description of automated gas detection systems that help protect workers from dangerous gases such as hydrogen sulphide.
Preventing environmental spills is the purpose of Romar's Packer Management System, which works to prevent drilling mud spills from slip joint and overshot packers by providing an early stage "fault and remedy" safety management process that alerts rig operators to a potential problem.
And there's much more in this issue – including technologies for pipeline monitoring, process control and pipeline cleaning.
Autumn is one of the busiest times of the year for conferences and events. So if you run into something of interest – or you have some news you'd like to tell our readers about – be sure to drop us a line.