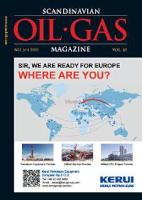 Technology Showcase
This year's Offshore Technology Conference edition covers a wide range of topics, including many technologies that make the industry so interesting. Likewise, OTC promises to keep its visitors busy for a full week as it showcases the industry's latest technological innovations.
We've included a look at some of the OTC week's highlights – including our congratulations to this year's Spotlight on New Technology award winners – as well as a look at a few of the North Sea companies that will be exhibiting this year.
Many of this issue's contributors take up the theme of using existing and newly developed technologies to help reduce costs over the long term.
Allegro Development examines the dynamic nature of energy markets and the huge risks that emerge in a period of profound volatility, characterising the current situation as a quantum shift – and reminds us that robust trading and risk management software will help to navigate market instability.
Current oil prices mean companies must be ever vigilant when it comes to costs – and Wikborg Rein points out that complying with applicable rules and regulations as well as meeting critical contractual deadlines and milestones will do much to ensure contractors do not incur added costs as projects evolve.
How do Norwegian value-added taxes affect foreign and Norwegian oil companies? Tax & Legal Advokatfirma DA explains the implications of recent rulings.
Looking to the Americas, T. A. Cook examines Canada's oil industry and its ability to attract, retain and support qualified workers to staff operations – as well as how current oil prices have affected the market for skilled labour.
OTC is all about technology – and this issue includes a number of cost-cutting technologies.
Technip Umbilicals describes the development of a process of creating a 3D tomography X-ray that can perform steel tube umbilical weld inspections without interrupting the production line – reinforcing the company's position as innovative leader in the umbilical market.
From PhotoSynergy Ltd (PSL), we hear about LIGHTPATH technology, a unique side-emitting flexible fibre lighting system that can be used for a wide range of applications, from guide path illumination through to the extremes of challenging, hazardous and submerged environments.
Pointing to an abundance of opportunities available for companies that develop technological advancements, Cambla describes its Schedule Animation Tool (S.A.T.), a multi-user application that provides an accurate visual representation of a vessel's location and planned activities to improve the accuracy and efficiency of planning subsea and marine operations.
DNV GL reports about their work with ultra-deepwater mooring model tests, utilising computational fluid dynamics (CFD) to fully understand riser and mooring system design limitations. CFD is also prominent in CD-adapco's collaboration with Zeeco Inc. to analyse the performance of a problematic industrial heater.
And we have much more – from asset management, via sensors or by utilising Big Data, to topside solids management to bolted joint integrity, this issue should have something for everyone.
All of here at Scandinavian Oil-Gas Magazine hope have an enjoyable and productive OTC experience – whether in Houston or following the news from your office. We'll be there, so if you happen to run into one of us at the show, let us know about your latest news.