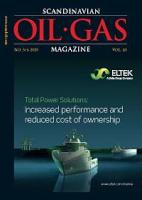 Future Continuous
Nor-Shipping is just around the corner, and this year's theme is "50 Years Looking Forward" – which marks the event's 50th anniversary, but emphasises that for a half century the Nor-Shipping has continuously looked forward to the future.
Likewise, North Sea oil and gas activities reach back into the 1960s. The North Sea oil and gas adventure owes a lot to the experience of the maritime industry. It could easily be said that oil and gas offshore innovation in the North Sea was put into high gear by the region's long and deep maritime experience and tradition.
Not it's only that the shipyards building ship-shaped vessels also build rigs and platforms. It's also how the North Sea oil industry has co-opted the maritime industry's approach to problem solving and the viewpoint that there can always be a better way to do thing that has lead to the region becoming an innovation incubator.
Offshore activities – in both industries – are also long-term prospects that span decades. As such, these industries are noted for their caution in adopting new technologies. In some cases, the authorities' requirements are a catalyst for change, as with how recent emissions requirements have resulted in an abundance of new, green propulsion solutions for all types of vessels.
But there are also companies like Statoil that actively work to support and encourage innovation by helping to bring new technologies into the fields. But new technologies and innovation also require financial support. Funding may be the most important factor in taking new ideas from the drawing board to the field.
Over the last decades, Norway has done much to support and fund new ideas, innovations and technologies. Yet the support system needs to be continuously examined to see how it can be more streamlined. More funding would always be welcome, but the system to apply for and receive financial support must be industry-friendly as well as generous.
Such funding is an investment in the future. As new technologies are commercialised, the region's income expands beyond selling oil and gas. Technologies that support recovery in the North Sea also are income-generating commodities that can be marketed globally.
Moreover, just as a number of oil and gas innovations have been inspired by other industrial sectors such as the automotive and aerospace industries, so in turn, innovations and new technologies for oil and gas can contribute to non-petroleum activities.
Although the oil and gas industry is known for moving with caution, very slowly adopting "unproven" technologies, innovation has shaped how the industry works today. As more and more innovative technologies have shown their worth, that mind-set has begun to evolve. The time from discovery to production has shortened due to uptake of new technologies.
Horizontal drilling is one example that has transformed the way fields are developed and made possible a revolution in production in North America.
Although the oil and gas industry has been in a price slump for the last half year, we have begun to see prices rising as demand increases – so we are hopeful for a full recovery. As many have pointed out, the wise use of technology will help the industry to weather the low periods. But the industry must also work to retain existing expertise and encourage a new generation of engineers.
Supporting technology development and education are investments in the future that will continue to reap rewards both in ensuring the longevity of North Sea oil and gas activities and in building a foundation for technology diversity.
Much has been done towards these goals, we nevertheless – as we have done here in the magazine many times over the years – encourage additional funding to support invention and innovation.