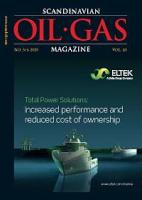 Looking Forward
It's time again for Nor-Shipping, and as the first week of June draws near, there's a definite feeling that this year will be special. This year's theme is "50 Years Looking Forward", which not only celebrates a half-century of Nor-Shipping, but also, as the event always has, works to position the maritime industry for the future.
We start this issue with a short preview of some of Nor-Shipping's highlights, including a look at a few of the products that will be featured by exhibitors. It'll be a packed week, starting with pre-conference events on Monday through to the final day of the exhibition on Friday.
"Partner-Ship" is the theme of our interview with Jan Kees Pilaar, Managing Director of Blohm+Voss Repair in Hamburg. For 138 years, the yard has served the maritime industry, and this featured article provides insight into how this experience has shaped their current offerings.
From Maritime Assurance & Consulting Ltd (MAC) we hear how vessels are routinely exposed to the extremely hazardous environments far from shore and that the art of dynamic positioning – DP – keeps them steady and safe regardless of environmental factors.
Communications offshore are essential, and in this issue we hear from Harris CapRock about how multiband antennas and sophisticated hardware ensure that rigs and vessels are connected no matter where they are in the world. And Marlink explains how the benefits of VSAT service can be put to use to provide real-time monitoring of engine and vessel performance as well as enables condition-based maintenance.
Funding is the life's blood of industry – especially for the volumes needed for investments in ships, rigs or fields – and this issue includes an interview with Wenche Nistad the Chief Executive Officer of GIEK – The Norwegian Export Credit Guarantee Agency, which stands ready to help the offshore industry and its banks finance capital items.
Safety on board rigs and vessels is always of the highest priority, and we hear from SP Fire Research about how passive fire protection constitutes one of the barriers against escalation of a fire after an accidental LNG spill, considering the importance of materials' resistance to cryogenic exposure. Likewise, water deluge fire protection systems testing poses challenges, which Paradigm Flow Services explains can be mitigated by using pressurised air and their Dry-Flo system for testing.
One of our favourite topics is subsea technology. In this issue we hear from OneSubsea about how multiphase pumping, or boosting, improves the economics of subsea production by reducing back-pressure on the reservoirs, which increases flow rates and total recoverable reserves.
Multiphase meters are now increasingly being installed subsea, and NEL discusses the challenges and benefits of metering on the seabed.
Swire Oilfield Services works closely with customers to develop innovative new designs to meet the operational challenges of the growing subsea sector, offering new subsea baskets to support subsea activities.
And you'll find much more as you flip through this issue.
Nor-Shipping is one or our "hometown" events, and we plan to see and do as much as possible, so we're looking forward to seeing you here in Oslo. Be sure to let us know what's new.