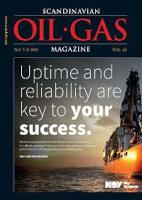 Inspiration for the Future
Welcome to our Offshore Europe 2015 issue. The event's theme – How to Inspire the Next Generation – is both important and a challenge in light of current economic conditions. Many of the features in this issue deal with mitigating cost issues – as well as how the industry can work to maintain and improve personnel skills. Without a doubt, young people today need to be aware that the industry is here to stay and that jobs will be available for them in the future.
We kick off this issue with an interview with Tord Lien, Norway's Petroleum and Energy Minister. The Minister hails from Northern Norway – born and raised above the Arctic Circle – so we not only hear his views on work in the Arctic, we hear about a broad range of energy matters spanning the North Sea and the world.
An interview with Hitachi Consulting's David Delvin – Head of Energy, Metals & Mining Industries, EMEA – reveals the consultancy's Rapid Cost Optimisation strategy works to fulfil the oil and gas industry's need to change dynamics towards cost effectives.
We queried MOL Group's Alexander Dodds, Executive Vice President of Exploration & Production about the oil company's recent acquisitions – on the Norwegian Continental Shelf in particular – and the company's plans for growth from a North Sea perspective.
This issue – as it typical for our OE edition – covers a broad range of topics, which makes pointing to specific articles difficult.
Among those who take the long view is Expro, which discusses the North Sea and the growing belief that a change in mind-set and business model is required for future success. Also, ProSep looks at how the low-price environment has stimulated innovation, and what it means for the global oil and gas industry worldwide.
From PwC, we hear about how an efficient Business Management System works as a company's nervous system, linking together organisational functions to ensure that all parts of the business consistently work together to achieve goals.
On the technology front, we have far too many features to mention them all.
From OneSubsea, we hear about subsea multiphase boosting, compression, and metering. Norwegian Subsea AS describes its newly developed a high-performance and compact subsea motion sensor with low power consumption. And Stork describes its committed to continual innovation and the development of its Advanced Online Desanding technology.
Whether talking about the current workforce or that of the future, training must be considered. The IWCF is committed to delivering improvement in process safety and operations throughout the life-cycle of a well. They tell us about how this can only be achieved though industry collaboration and changing behaviours by making individuals feel empowered to act. We also hear from The Well Academy, The Underwater Centre and Maersk Training about the importance of maintaining and improving the skills to make the workforce safer and more efficient.
We hope you've had an enjoyable summer, with time for some recreation and relaxation. But now it's time to prepare for your visit to Aberdeen for Offshore Europe. We hope this issue will help smooth your way to the event.
Be sure to look for us there. We'd like to hear about your company's plans for the future – it'll be here soon than you think.