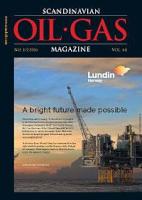 Optimistic Year
Like many others, we're optimistic that we'll see oil and gas prices move upwards at some point during this year. It's just a month into the year, and we've seen Brent dip into the $20s, but as we go to press, there's been upward movement towards the higher $30s that we saw as the year began.
A year ago, talk was of cost cutting through applying technology and working smarter – as well as pursing collaborative efforts to ensure industry success. For a year now, and as we move forward in 2016, we'll continue to feature those efforts.
From DNV GL, we hear about how cutting costs for pipeline projects has become an essential project goal in light of the industry's challenge to reduce costs and improve efficiency. To help operators achieve this goal DNV GL has launched EC-Pipe, or Efficient and Cost-saving services for the pipeline industry.
Technip's Evanton spoolbase is a model for how the company continuously strives to improve its efficiency and create innovative methods of working. The Technip spoolbase has done much to cut costs and improved efficiency with a strong focus on health, safety and the environment.
Looking northwards to Arctic waters, Ace Winches has provided equipment designed to meet the challenges posed by the extremely harsh and cold offshore conditions in Alaska, Russia, and Newfoundland and Labrador in Canada – and now has two bases in Norway to support activities in the Norwegian Continental Shelf and the Barents Sea.
As part of our subsea coverage, Hydratight tells us about their system – co-designed with Connector Subsea Solutions – for the cleaning of subsea umbilicals, risers and flowlines. The Riser Cleaning and Inspection Tool includes both the ability to clean and to inspect risers – a job that has previously been limited to ROV tools – at much lower cost.
Well integrity management has come a long way in the 25 years that Wood Group Intetech has been in business. And hear from these well integrity experts how, since the early 1990s, the technology has evolved as well as how they expect further innovation and evolution in the coming years.
While there's much to be concerned about in the current downturn, FES International explains how they've bucked the trend. Having trebled its turnover in the last 4 years, the company forecasts further growth in 2016, in part due to having entered the Chinese market with its first major contract win. FES has heavily invested in research and development over the past few years – as well as focusing on customer support – which has been a winning combination.
And, as always, there's much more to find in this issue – from seismic monitoring to application of protective coatings, and asset tracking to a new tablet-based "Electronic Flight Bag" for helicopter pilots.
All things considered, it's too early in the year to predict exactly when oil prices will begin to head upwards. But we're confident that it will happen. And we'll be here, whether it's at OTC or ONS – or any number of events throughout the year. So let us know how you're fairing – we're eager to hear about your strategy to make the best of the slow time to ensure that, as the market improves, you're positioned to take advantage of the coming opportunities.