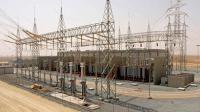 ABB has won an order worth around $20 million from Dubai Electricity & Water Authority (DEWA) , to extend a substation that will integrate more solar energy into the grid, helping diversify Dubai's energy mix to meet growing demand.
DEWA is doubling the net output capacity of phase II of the Mohammed bin Rashid Al Maktoum solar park from 100 megawatts (MW) to 200 MW. ABB previously won a substation order in 2014 to integrate 100 MW from the park into the grid.
This utility scale solar photovoltaic plant, which covers 4.5 square kilometers, will produce enough electricity to power more than 30,000 homes serving 130,000 people. Its addition to the UAE system displaces the need for power from fossil fuels that would have produced about 250,000 tons of carbon emissions annually.
"We are working to achieve the goals of UAE Vision 2021 and Dubai Plan 2021 to support Dubai's economic growth, through diverse and secure Energy supply and Efficient Energy use, while meeting environmental and sustainability objectives. DEWA is also committed to achieving the Dubai Integrated Energy Strategy 2030 to generate 7 percent of Dubai's total power output from renewable energy by 2020 and 15% by 2030," said HE Saeed Mohammed Al Tayer, MD & CEO of DEWA.