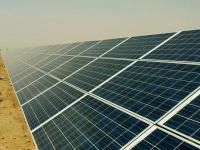 REC will highlight its sustainable, over-performing products and services for the solar industry at the World Future Energy Summit in Abu Dhabi from January 20-22, 2014 at booth #7300.
On display will be the REC Peak Energy Series solar panels which are proven and widely recognized for setting new industry benchmarks for high product quality and best suited for the mostly arid desert conditions of MENA.
REC Peak Energy Series solar panels have a "desert-proof" accreditation for passing the Blowing Sand Test by SGS, the world's leading inspection, verification, testing and certification company. The test measures durability in harsh desert environments characterized by blowing sand and confirms that REC solar panels are also ideally suited for use in desert regions.