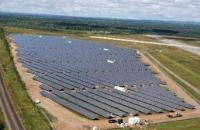 TransCanada Corporation has acquired an additional Ontario solar power facility, known as Mississippi Mills, from Canadian Solar Solutions Inc. (Canadian Solar). Mississippi Mills is a newly built 10-megawatt (MW) facility located west of Ottawa. This deal follows the previously announced purchase of Brockville 1, Brockville 2 and Burritts Rapids solar facilities as part of an agreement to purchase a total of nine solar facilities from Canadian Solar in Ontario.
The combined capacity of the nine solar facilities is 86 MW at a total cost of approximately $500 million. All nine projects have 20-year power purchase agreements with the Ontario Power Authority. TransCanada anticipates the remaining five solar projects will come into service by the end of 2014.
"We are pleased to have acquired an additional solar facility in Ontario as part of our growing energy portfolio, one-third of which are facilities that produce electricity from emission-less sources," said Russ Girling, TransCanada president and chief executive officer. "The addition of these solar facilities to our asset base continues to allow us to complement our existing operations in Ontario where we have become the largest independent power producer in the province."