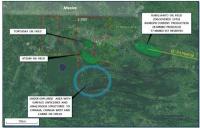 Citation Resources Ltd says that testing operations are set to recommence on the Atzam #5 well, with the immediate program to be focused on the C18 carbonates located behind production casing above the final casing point at 3,600 feet.
The testing program was recently delayed whilst Schlumberger sourced and delivered a larger 7 inch perforation gun from Mexico to location, which has arrived in recent days.
The new perforation gun and tools have now been run in the hole on wireline and the next phase of Atzam #5 testing operations are now due to commence.