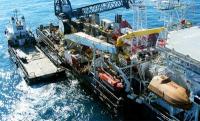 Cal Dive International, Inc. announced the sale of its U.S. Gulf of Mexico shallow water surface diving fleet to a privately held company for cash of $18.5 million and a 19.9% minority interest in the entity acquiring the assets.
The assets sold are comprised of eight surface diving vessels and miscellaneous inventory and equipment. The Company anticipates recording a gain during the second quarter as a result of the transaction. Net proceeds from the sale were used to repay a portion of the Company's revolving credit facility.
The Company also entered into a multi-year alliance agreement with the buyer under which the buyer will have the exclusive right to provide any surface diving services required by the Company in the U.S. Gulf of Mexico to support pipelay, decommissioning, platform installation and other integrated services.