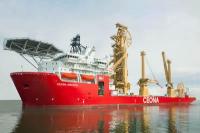 Ceona, SURF contractor with heavy subsea construction capabilities, has been awarded a new deepwater contract with Houston-based Bennu Oil & Gas LLC in the Gulf of Mexico (GoM) on their Mirage field. This contract comes after a first contract was awarded and completed last year for operations on their Clipper deepwater field.
The agreement will see Ceona deploy its newest vessel, the Amazon, to install a flexible flowline of approximately 2.4 miles (3.8 kilometres) and an umbilical of about 2.6 miles (4.2 km) from Bennu's Mirage well location, which is located in Block 941 of the Mississippi Canyon Field. Each will be tied-back to Bennu's Titan Production Facility at a depth of approximately 4,000 feet (1,200 metres).
The contract is the second that Ceona has won with Bennu after previously being selected to install a 1.1 mile (1.7 km) umbilical and two 15 mile (24 km) electric quad cables at a depth of 3,000 ft (914 m) on the Clipper project in spring 2014.