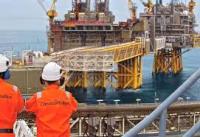 ConocoPhillips announced the Omosi-1 deepwater exploration well in Block 37 offshore Angola in the Kwanza Basin has been drilled to a total depth of 20,666 feet. A gas column of approximately 525 feet was encountered in the primary objective reservoir. No further activity is planned. The well has been plugged and abandoned.
In the deepwater Gulf of Mexico, the Harrier prospect in Mississippi Canyon Block 118 has been drilled to a total depth of 19,400 feet. No commercial hydrocarbons were encountered. The well will be plugged and abandoned. Stone Energy Offshore, L.L.C. was a non-operating co-owner in the Harrier prospect.
An after-tax charge relating to the two wells of approximately $142 million net to ConocoPhillips will be recorded to dry hole expense in the first quarter of 2015.