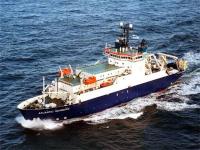 At the SEG conference in Houston, Schlumberger and EMGS presented the first results from their joint sub-salt project in the US Gulf of Mexico. The results show that using EM provides significant improvement in prestack depth migrated images compared to seismic alone under complex salt structures.
This is the first time EM data has been used to improve seismic images below complex salt structures.
"We are excited to see such substantial improvement in the early stages of the application of the EM technology below salt and look forward to presenting this solution to the industry together with Schlumberger. We firmly believe that this will create substantial value to our clients," says Roar Bekker, CEO of EMGS.