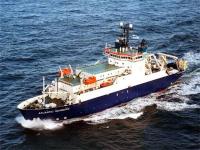 EMGS has received additional pre-funding for the ongoing Daybreak 3D multi-client electromagnetic survey in the Alaminos Canyon protraction of the US Gulf of Mexico.
The survey started on 22 February and is expected to be completed mid-June with integrated data delivery starting in June. The survey has strong industry funding.
"We are very pleased with the initial industry interest for this project. The strong level of pre-funding confirms both the project potential and the importance of the US Gulf of Mexico as a new multi-client area for us. We have extensive experience from working with Pemex just south of this area, so we are excited to use this opportunity to further extend our experience along the Perdido trend," says Roar Bekker, CEO of EMGS.