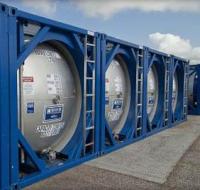 Hoover Container Solutions, a subsidiary of Hoover Group, Inc., has acquired Dolphin Energy Equipment LLC (Dolphin), a provider of cargo and waste management rental equipment and related consumables in the Gulf of Mexico region.
Headquartered in New Iberia, La., with a distribution and service center in Port Fourchon, La., Dolphin's assets include a diversified fleet of cargo carrying units (CCUs) certified to the highest standards including DNV and API regulations. Dolphin is best known for its offshore baskets, trash compactors, food disposal units, pipe slings and related consumables and services.
The combined company will be a premier supplier of chemical, cargo and waste management tanks, baskets, containers and related accessories and services in the global energy marketplace. The acquisition of Dolphin complements the acquisition of Consult Supply A/S which was completed in 2012. Based in Stavanger, Norway, Consult Supply (soon to be Hoover Norway) provides an extensive range of products in the North Sea market including chemical tanks, cutting boxes, baskets and specialized workshops and containers all certified to DNV 2.7-1 standards.