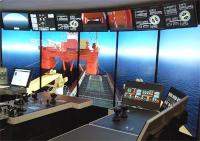 'Fideicomiso de Formación y Capacitación para el Personal de la Marina Mercante Nacional' (FIDENA), on behalf of Mexico's Secretariat of Communications and Transportation (SCT) has selected Kongsberg Maritime offshore simulators for the Marine Education Center in Ciudad del Carmen, Campeche.
Appointed by SCT, FIDENA is the educational institution in charge of managing, organising and developing the formal education of all seafarers in Mexico. As Mexico's only institution offering higher level programs in maritime education, FIDENA has garnered widespread international recognition and plans to secure its position through the signing of a contract with Kongsberg Maritime for the supply of K-Sim DP (Dynamic Positioning simulators) and K-Sim Offshore (offshore vessel simulators).
The new simulators will enable FIDENA instructors to provide training on critical operations relating to the offshore oil & gas industry in the Gulf of Mexico and further afield, with improved capabilities for the simulation of DP, anchor handling, ship handling and navigation for a full range of offshore units from support ships to oil production and storage vessels.
Kongsberg Maritime delivered a full suite of DP simulator systems, including Class B and C as defined by the Nautical Institute (NI) and Det Norske Veritas (DNV). The delivery also includes Kongsberg Maritime's highly advanced K-Sim Offshore Simulator with forward and aft bridges for a wide range of offshore operations such as ship handling and manoeuvring, anchor handling and DP Class B.