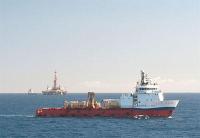 Oceaneering International, Inc. has entered into a two-year charter for use of the Island Pride, a multi-service subsea support vessel owned by Island Offshore Shipping International AS. The vessel is expected to be available for work in the U.S. Gulf of Mexico (GOM) in early January 2015.
Prior to commencement of work, the Island Pride is anticipated to undergo modifications to enhance its service capabilities, including reconfiguration to accommodate two Oceaneering high-specification, work class ROVs. The vessel will also be equipped with a satellite communications system capable of transmitting streaming video for real-time work observation by shore personnel.
The Island Pride has an overall length of approximately 340 feet (103 meters), a Class II dynamic positioning system, accommodations for 94 personnel, a helideck, a 150-ton active heave compensated crane, and a working moonpool.