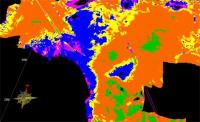 CGG has been awarded an extension to a major 3D seismic survey it successfully completed on the Caribbean coast offshore Colombia in late 2015.
The new survey follows on from the original over 16,000-km2 survey CGG conducted over portions of the Col-1 and Col-2 blocks, which was the largest survey ever recorded offshore Colombia.
This major extension is expected to start in February 2016. The additional data will also be processed in CGG's Houston subsurface imaging center.