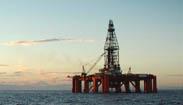 Falkland Oil and Gas Limited is providing an operational update on the 14/20-1 'Isobel Deep' (FOGL: 40%) well that was spudded, by Premier Oil as operator, on 8th April 2015.
Following the successful setting of the 13 3/8' casing at a depth of 1273.9m metres, a problem was detected with the blowout preventer (BOP). The well has been temporarily suspended and the BOP has been brought to surface for inspection and repairs.
It is anticipated that the repairs to the BOP will take in the order of 10-14 days. Whilst these repairs are being undertaken the rig will be utilised to drill the top-hole sections and set the conductor(s) on the Chatham and/or Jayne East Locations.
The rig will return to the Isobel Deep location to continue drilling once the BOP repairs have been completed and a further operational update will be issued at that time.