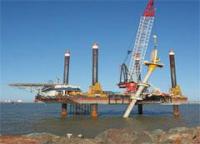 The contract extension is valued at approximately USD 20 million and the workscope includes geophysical and geotechnical field operations, laboratory testing and geoconsulting activities.
The field programme commences in December 2015 from the ultra-deepwater geotechnical and well services vessel Fugro Synergy, while the geoconsulting programme will continue through 2016.
This contract extension represents a continuation of Fugro's long-standing and successful working relationship with Pemex and reinforces Fugro's global market leadership and status as preferred service provider for geotechnical and geophysical services and geoconsultancy.