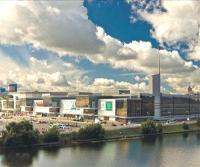 Petrobras: The early production system of the Búzios field, located in the Santos Basin pre-salt cluster, went into operation last Tuesday (Mar. 10). This is the first large-scale, long-term production in the Transfer of Rights area. Production will take place by means of the Dynamic Producer platform vessel, which is interconnected to well 2-ANP-1-RJS, and its average production will be restricted to 15,000 barrels of oil per day due to gas use limitations.
We intend to produce through this early system for six months. This time will be used to obtain essential information to optimize the first definitive production system for the field, which will use platform P-74, currently in its final stage of conversion at the Inhaúma shipyard, in Rio de Janeiro.
The Búzios well is located some 200 kilometers off the coast of Rio de Janeiro, at a water depth of 1,600 to 2,100 meters. We announced its declaration of commerciality in December 2013.