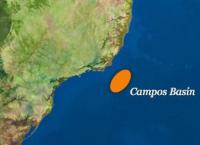 Petrobras has announced that on April 11, 2015, oil production in the fields it operates in the pre-salt province of the Santos and Campos basins reached the milestone of 800,000 barrels per day (bpd), constituting a new daily production record. Of this volume, around 74% (590,000 bpd) corresponds to Petrobras' share and the remainder belongs to its partner companies in different presalt layer production areas.
The 800,000 bpd output was achieved just eight years after the first oil discovery in the pre-salt layer, in 2006 - less time than was necessary to arrive at the same level in other offshore production areas. It took Petrobras 40 years and 6,374 wells to reach oil production of 800,000 bpd in Brazil. In Campos Basin, this same production volume was reached in 24 years, using 423 wells.
In the pre-salt, the 800,000 bpd milestone was achieved now with just 39 production wells. Of these wells, 20 are located in Santos Basin, which accounts for 64% of output (511,000 bpd), while the other 19 wells are located in Campos Basin, representing 36% of production (291,000 bpd).