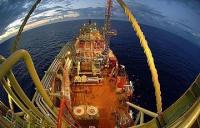 Petrobras announces that January's total oil and natural gas production in Brazil was 2,310,000 barrels of oil equivalent per day (boed), down by 2.2% from the December 2013, that was 2,362,000 boed. Including the production operated by Petrobras for its partners in Brazil, January's production was 2,438,000 boed.
In January, Petrobras' oil production in Brazil averaged 1,917,000 bopd, down by 2.4% from last month's production of 1,964,000 bopd. Including the share operated for its partner companies, oil production in Brazil was 1,997,000 bopd.
Average monthly oil production from pre-salt fields in the Santos and Campos Basins reported a record of 358,000 bopd in January, an increase of 13,000 bopd from the December 2013 monthly average of 345,000 bopd.