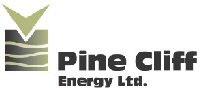 Pine Cliff Energy Ltd. has closed its previously announced acquisition of certain natural gas weighted assets (the "Assets") in the Viking area of Central Alberta and Ghost Pine area of Central Alberta for cash consideration of $185 million, prior to any adjustments and rights of first refusal (the "Acquisition").
The production of the Assets is currently approximately 11,300 barrels of oil equivalent (Boe) per day or 67,800 thousand cubic feet equivalent (Mcfe) per day, weighted 89% to natural gas, 7% to oil and 4% to natural gas liquids. With the close of the Acquisition, Pine Cliff is currently producing approximately 23,800 Boe per day or 142,800 Mcfe per day, weighted 92% to natural gas.
In connection with the Acquisition, the Company issued 63.9 million subscription receipts ("the "Subscription Receipts") at a price of $1.08 per Subscription Receipt for gross proceeds of $69 million by way of a short form prospectus offering on a bought deal basis (the "Offering").