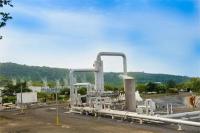 Polaris Infrastructure Inc. says that its wholly owned subsidiary, Polaris Energy Nicaragua, S.A., recently completed drilling well SJ6-3, the first of three new production wells for the San Jacinto project.
Preliminary measurements of temperature and drilling fluid losses suggest a moderately productive well, though at this early stage we are unable to measure steam flows.
The new well will require a 30 to 60 day heating-up period during which valuable temperature data will be collected, after which we will have thermal recovery and move to production testing.