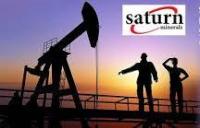 Saturn Minerals Inc. has made a new oil discovery in three separate potential pay zones at its 100% owned 9A-5-44-8W2 well (9A-5) on its Bannock Creek project located near the town of Hudson Bay in northeast Saskatchewan.
The discovery has been made in conjunction with technical teams from North Rim Exploration Ltd. and Axiom Exploration Ltd., both of Saskatoon, Saskatchewan.
As previously announced, drilling of the 9A-5 well had commenced on January 7th and had reached a total depth of 583 meters before technical difficulties related to wellbore stability and lost circulation were encountered.
In consultation with its technical team, the Company elected to redesign the casing configuration and drill process.