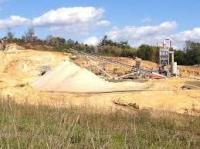 Select Sands Corp has completed a drilling program covering approximately 95% of the Sandtown Silica Sands project.
The current drilling demonstrated uniformity and quality equivalence to the sandstone that was incorporated in the Company's inaugural Preliminary Economic Assessment (PEA).
The samples from the current drilling have been submitted for analysis at Stim Lab of Oklahoma, USA. Upon the receipt of the results from the lab, the Company will release an updated resource estimate.
A total of 15 of the 20 holes drilled intersected the targeted silica sand zone, while 4 holes to the southwest intersected a gravel/clay zone which is to be used to build haul roads on the property.