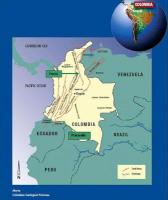 South America-focused Amerisur Resources has mobilized the work-over rig D-6, owned and operated by Serinco Drilling, to the Platanillo Field to the Platanillo-2 location in Colombia.
Once the unit is rigged up and tested, the Platanillo-2 well will be re-entered and worked over, said the firm. The work over program is intended to optimize the configuration of the well and will include a remedial cementation and a drill stem test (DST) of the previously untested 'N sand' formation.
The N sand is an established producer in the Victor Hugo Ruales field in Ecuador, and has also been shown to be productive in recent exploratory wells in the Caguan-Putumayo basin.
Other zones may also potentially be tested under the program. The N sand DST and re-completion program is expected to begin during the next few days and take up to 14 days to complete. It is expected that Alea-1R will continue in normal production during these operations.
The southern access road to Drilling Platform 9 has been completed and work is well advanced on the drilling location, added Amerisur.
"The work over of Platanillo-2 is an important opportunity for the company to physically test the N sand and so correlate the petrophysical model to ensure that we are able to efficiently interpret the log responses in the new wells of our upcoming drilling campaign," said Amerisur CEO John Wardle.