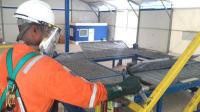 Hoover Container Solutions (Hoover) has opened its new service facility in Brazil. The wash line facility allows Hoover to provide expanded cleaning services while handling all intermediate bulk containers (IBCs), ISO tanks and offshore equipment destined for oil and gas platforms, mining sites, islands and supply bases in the region.
Hoover's new wash line facility is equipped with experienced staff who are licensed to clean a wide variety of hazardous and non-hazardous materials. The site hosts a full range of tank cleaning services including: easy clean (steam or flush), moderate clean (caustic or detergent), difficult clean (boosted caustic or pre-solve), exterior clean with internal process or exterior clean only.
The high power wash system generates 1,500 psi of pressure used for the washing and rinsing of fluid storage or transportation containers. The closed-loop system, designed to recycle wash water, allows for minimal waste water disposal while maximizing customer savings. Steam is used to aid in accelerating the cleaning process and in improving the cleaning power of the detergent. During the final stage of cleaning processes, the wash system uses a fresh water rinse that has been pumped through cartridge filters to thoroughly cleanse containers.