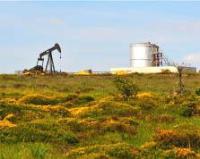 LGO Energy provides an update on its recently drilled well GY-678. In the interim statement released on 18 September 2015, the Company reported a mechanical problem had been encountered with well GY-678, the last of its seven planned wells in 2015 to the C-Sand formation.
The Company attempted to recover the downhole equipment which was causing an obstruction below the 9 5/8-inch casing, however, without success. Consequently a cement plug has now been set in the surface casing of the well and the rig has been released, pending a decision on possible re-entry and sidetracking, or re-drilling, to reach the extensive C-sand net oil pay zone previously drilled and logged in the well.
This mechanical loss has significant cost implications for the Company, as in addition to the cost of the well and the unsuccessful recovery attempts totaling approximately US$1.9 million, the Company is potentially liable for the cost of the lost downhole equipment of approximately US$1.5 million.