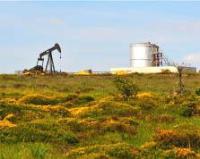 LGO plans for the testing of the three recently drilled wells, GY-672, 673 and 674, on drilling Pad 4 at the Goudron Field, and provides an update on important infrastructure approvals and improvements that are designed to significantly increase oil sales capacity at the field from 2,750 barrels to over 12,000 barrels.
Well Testing:
The Company has now received final approval for the completion of all three wells recently drilled from Pad 4 as production wells. A combined total of 556 feet of perforations are planned across the prolific C-sand intervals in the three wells. The equipment required has been mobilised to the field and work is anticipated to start later this week.
As previously announced each of the new wells will be flow tested with the appropriate pressure build-up tests carried out over the coming weeks. Each well will be subject to a number of periods of flow testing up to 6 hours duration, followed by individual pressure build-up tests (pressure monitoring without flow) of approximately 24 hours. Once the test phase is complete, which may take up to 5 days per well, a stable flow rate will be selected to best manage the reservoir performance of the well in the short and medium term, and provide further information for the completion of further wells on the field. Oil produced from the wells during the test period will be sold.