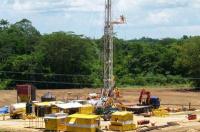 Range is pleased to advise that the MD 42N development well, which spudded on 4 September 2015, is drilling ahead at 2,180 ft. to a total depth of 3,120 ft. The drilling of the well will continue to its target depth using rig 2.
The well is being drilled to test the prolific Upper Cruse channel sand complex at a depth of 1,650 ft. (secondary target) and the extent of the underlying Middle Cruse sand trend at a depth of 3,120 ft. (primary target). Range's estimate of recoverable oil from the well is 72,000 barrels. Additional drilling locations may be proven up with the success of the MD 42N well.
Following a further review of the drilling work programme announced on 24 August 2015, Range has made some adjustments to the drilling schedule.