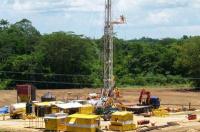 Range is pleased to provide the following update with respect to its drilling programme in Trinidad.
The MD 42N development well, located at the Company's Morne Diablo field, which was spudded on 4 September 2015, has reached total depth.
During the drilling operations, the decision was made to drill the well to a revised total depth of 2,610 ft. (instead of 3,210 ft. as initially planned) due to well bore instability which was encountered. To avoid the risk of losing the well, it was decided not to continue drilling the well below 2,610 ft.
Initially, the well was being drilled to test the prolific Upper Cruse channel sand complex at a depth of 1,650 ft. (secondary target) and the extent of the underlying Middle Cruse sand trend at a depth of 3,120 ft. (primary target). Given the reduced total depth, only the secondary target will be tested.