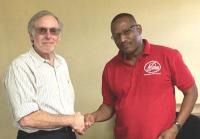 Sparrows Group has grown its Americas footprint into Trinidad and Tobago following an agreement to work in cooperation with Miguel Mechanical Services Ltd.
The deal combines local knowledge and expertise with global engineering capability and experience to deliver crane assurance and lifting integrity to the country's energy industry.
Miguel Mechanical Services will supply local expertise, labour, procurement and facilities while the Sparrows Group will deliver engineering and technical support as well as training and competency assessment.