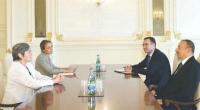 EITI Chair Clare Short met with President Ilham Aliyev during her visit to Baku. The purpose of the meeting was to discuss Azerbaijan's EITI implementation. Clare Short also met with Azerbaijan's EITI multi-stakeholder group and members of the Coalition of Public Unions for improving transparency in the extractive industries in Azerbaijan.
Clare Short said after the meeting with the President, "The President undertook to resolve the issues raised by the EITI Board on civil society participation. Azerbaijan's progress on implementing this commitment will be assessed in April 2016 after the publication of Azerbaijan's next EITI Report. We look forward to continue to work together with the government on these issues."
On 15 April the EITI Board downgraded Azerbaijan's EITI status from Compliant to Candidate due to breaches of the EITI requirements. Azerbaijan can regain its Compliant status by implementing the corrective actions requested by the EITI Board within 15 April 2016, or face suspension or delisting from the EITI.