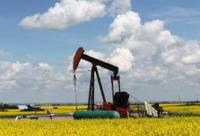 Condor Petroleum Inc. has commenced drilling operations on the KN-501 Primary Basin well on the Company's 100% owned Zharkamys West 1 Territory in Kazakhstan.
The KN-501 Primary Basin well is targeting 67 mmboe unrisked mean prospective resources and is planned to reach a depth of 4,250 meters. The well has a conventional 4-way closure across a 30 km2 area and an extensive salt top seal which ensures robust trap integrity. The estimated remaining cost to drill KN-501 is CA$8 million.
KN-501 offsets the Company's play opening KN-E Primary Basin discovery by 8 kilometers and is located under the same salt dome. The KN-E discovery validated the Primary Basin play in Kazakhstan, demonstrating that oil source, migration, reservoir, trap and top seal can be successfully imaged with the Company's high quality 3D seismic which utilizes the latest industry acquisition and processing techniques. Condor's current Primary Basin prospect inventory, including KN-501, contains 391 mmboe of unrisked mean prospective resources.