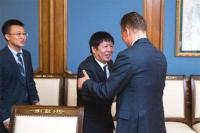 The Gazprom headquarters hosted a working meeting between Alexey Miller, Chairman of the Company's Management Committee and Huang Weihe, Vice President of PetroChina.
The parties addressed the issues of arranging Russian gas supply to China via the western route. It was pointed out that the main terms and conditions of supply had already been specified, for instance, a Russian-Chinese border crossing corridor for the future gas pipeline. The current project negotiations show a very good dynamics.
Alexey Miller and Huang Weihe addressed the progress with gas supply to China via the eastern route. The project operations in Russia and China are running according to the schedule.