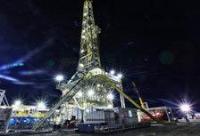 Serinus Energy Inc. says that KUB-Gas LLC, Serinus' indirectly 70% owned subsidiary, has been granted a new concession in eastern Ukraine. The West Olgovskoye block was awarded to KUB-Gas Borova LLC (a newly incorporated subsidiary of KUB-Gas) by way of a Special Permit by the State Service of Geology and Minerals of Ukraine.
West Olgovskoye is located in the Kharkiv oblast, immediately offsetting the Olgovskoye and North Makeevskoye licences currently owned and operated by KUB-Gas. It covers an area of 449 km2, and surrounds (but does not include) the existing Druzhelyubovskoe gas/condensate field which is owned and operated by Ukrgasdobycha, a subsidiary Naftogaz, the state owned oil company.
Since starting production in 1979, Druzhelyubovskoe is believed to have produced over 180 Bcf of gas from the same Moscovian and Bashkirian zones that produce in KUB-Gas' Olgovskoye and Makeevskoye fields. The new permit area has several hundred kilometres of very old vintage 2D seismic data, which suggest additional undrilled structural features, although new seismic data will have to be acquired before any are upgraded to drillable prospect status.