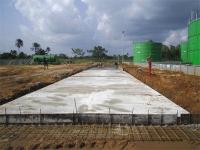 Mart Resources, Inc. and its co-venturers, Midwestern Oil and Gas Company Limited ('Midwestern', Operator of the Umusadege field) and SunTrust Oil Company Limited are providing the following updates on Umusadege field production for June 2015 and other operations.
June 2015 Aggregate Production Update
Umusadege field production during June 2015 averaged approximately 15,750 bopd resulting in total production of approximately 472,500 bbls for the month. Aggregate calculated Umusadege field downtime during June 2015 was approximately 2.7 days (based upon days with production of more than 10,000 bopd being considered to have no downtime). There were shutdowns of the Trans Forcados export pipeline and the NAOC export pipeline during June 2015 due to operational interruptions for general pipeline maintenance and repairs due to vandalism, but ongoing production from the Umusadege field was managed by the ability of the field operator to alternate production between the Trans Forcados and NAOC export pipelines. The average field production based on producing days was approximately 17,300 bopd in June 2015.
The combined net delivery of oil from the Umusadege field through the Umugini pipeline and NAOC export pipeline totaled approximately 454,050 bbls in June 2015 before estimated pipeline and export facility losses, and approximately 400,570 bbls after deduction of combined pipeline and export facility losses estimated for June 2015 by Mart.