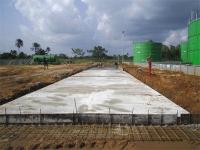 Mart Resources, Inc. and its co-venturers, Midwestern Oil and Gas Company and SunTrust Oil Company Limited are providing the following updates on Umusadege field production for October 2015 and other operations.
October 2015 Aggregate Production Update
Umusadege field production during October 2015 averaged approximately 14,320 bopd resulting in total production of approximately 443,860 bbls for the month. Aggregate calculated Umusadege field downtime during October 2015 was approximately eight days (based upon days with production of more than 10,000 bopd being considered to have no downtime).