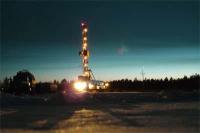 PetroNeft is pleased to provide an update on operations at Licence 61.
Highlights
West Lineynoye •L-10 horizontal well brought online at a sustained rate of 230 bopd. •L-10 result confirms short segment horizontal drilling greatly increases flow rates.
Tungolskoye •T-503 horizontal well continues to produce at a sustained rate of over 500 bopd. •T-502 horizontal segment drilling in progress. •T-508 control well and water injector drilled in 17 days.
Production •Current gross production from Licence 61 is about 2,600 bopd. •Represents a 41% increase in production thus far this year.
West Lineynoye Development
The L-10 well at West Lineynoye was successfully completed with a horizontal segment of about 282 metres in the Upper Jurassic J1-1 horizon at a depth of approximately -2,365 metres TVD. Of the 282 metre horizontal segment it is estimated that approximately 125 metres is effective net pay. The well was brought online on 4 August and the average flow rate over the last five days has been approximately 230 bopd. The well has cleaned up substantially and the current water cut is less than 5%. The adjacent L-8 vertical well is producing about 50 bopd from the same reservoir interval and the L-10 confirms the ability to use short segment horizontal drilling to greatly increase the flow rates.