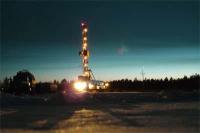 PetroNeft is pleased to provide an update on operations at Licence 61.
Highlights
Tungolskoye •T-503 horizontal well brought online at sustained rate of over 550 bopd. •Latest test rate was 675 bopd.
Sibkrayevskoye •Processing and interpretation of 1,000 km of high quality 2D seismic underway. •Early indications suggest that the Sibkrayevskoye structure is larger than previously understood.
Lineynoye •L-10 well horizontal segment in progress.
Production •Current gross production from Licence 61 about 2, 400 bopd.